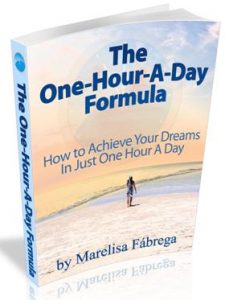 Most people believe that in order to make an important change in their lives–pursue their dream career, become a published author, find a way to create multiple streams of passive income, learn to play the guitar, and so on–they need to have a large chunk of free time at their disposal.
At the same time, few people have the luxury of taking a long sabbatical–lasting from six months to a year–which they can devote exclusively to achieving an important life goal.
However, in order to achieve your dreams all that you really need is one hour a day. Discover how to carve an hour out of you day–and how to use that hour to achieve your life goals–in my eBook, "The One-Hour-A-Day Formula: How to Achieve Your Dreams In Just One Hour a Day". Click here to read more . . .