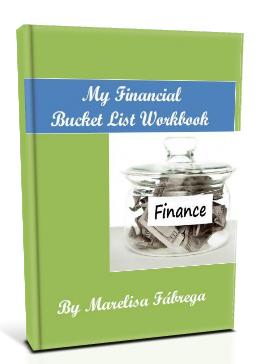 Although it's true that money can't buy happiness, you need money–and you need to have your financial life in order–to be able to achieve your bucket list. Use "My Financial Bucket List Workbook" to create a financial bucket list that will allow you to achieve every item on your bucket list.
This workbook–which is a digital product–is divided into the following main areas:
Initial Evaluation
The Mental Money Game
Financial Literacy
Spending – Expenses
Income
Savings
Debt
Purchasing Big Ticket Items
Investing
Taking Care of Your Family
Tax Management
Insurance
Retirement Planning
Estate Planning
Philanthropy
Short-term, Mid-term, and Long-term Goals
"My Financial Bucket List Workbook" has ideas and prompts to help you create a list of goals–or bucket list items–that will address every aspect of your personal finances:
Creating a Financial Philosophy
Eliminating the Mental Barriers to Wealth
Getting Control Over Your Finances
Increasing Your Income
Applying Conscious Spending
Increasing Your Net Worth
Using Credit Cards Wisely
Eliminating Debt
Reducing Your Tax Burden
Protecting Your Assets
Becoming a Savvy Investor
Taking Care of Your Loved Ones
Preparing for Retirement
Leaving Your Affairs in Order When You Pass Away
Giving Back to Your Community
Financing Your Bucket List
"My Financial Bucket List Workbook" is a 105-Page PDF with over 11,500 words. It contains 42 worksheets, 50 images, and over 500 bucket list ideas to get your ideas flowing so that you can create a fantastic Financial Bucket List.
Here's a sample page: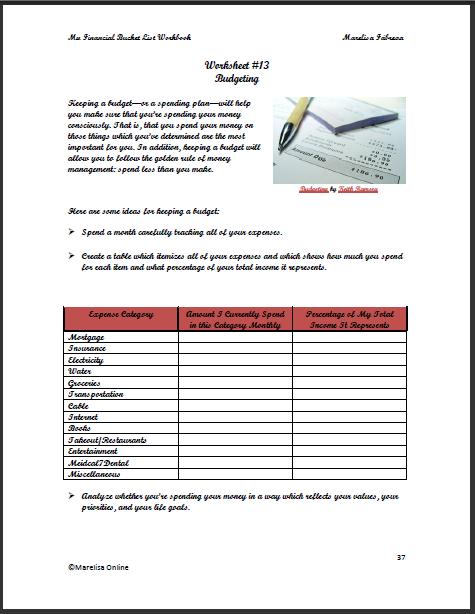 "My Financial Bucket List Workbook" is a digital product, which means you'll receive a download link immediately upon purchase (nothing will be shipped to you). It costs only $9.95. Buy it now!