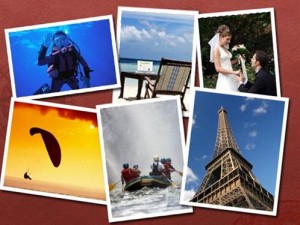 Creating a bucket list is one of the best ways to make sure that you use your time and resources in order to accomplish and experience what you really want out of life.
If you've been considering creating a bucket list, or if you want to expand a list you already have, here are over 525 ideas for you to consider:
Sports/Athletics Bucket List
Here are some ideas for your "Sports/Athletics Bucket List":
1. Run a 10k.
2. Run a half marathon.
3. Run a marathon.
4. Join the 50 States Marathon Club and run a marathon in all 50 states.
5. Become a triathlete.
6. Complete the Ironman Triathlon.
7. Learn archery.
8. Learn to play golf.
9. Play golf with Jack Nicklaus.
10. Go golfing at each of the 100 Best Major Golf Courses in the World.
11. Join a bowling league.
12. Swim across the English Channel.
13. Learn to ski.
14. Ski at the top ten ski resorts in the world.
15. Go canoeing or kayaking.
16. Take horseback riding lessons.
17. Take up fishing (or fly fishing).
18. Learn how to ice skate.
19. Learn how to figure skate.
20. Learn how to roller blade.
21. Learn to water ski.
22. Learn to sail.
23. Sail around the world.
24. Learn to play tennis.
25. Try fencing.
26. Participate in the Tour de France.
27. Learn to surf.
Martial Arts Bucket List
28. Karate
29. Kung Fu
30. Jujitsu
31. Tae Kwon Do
32. Judo
33. Aikido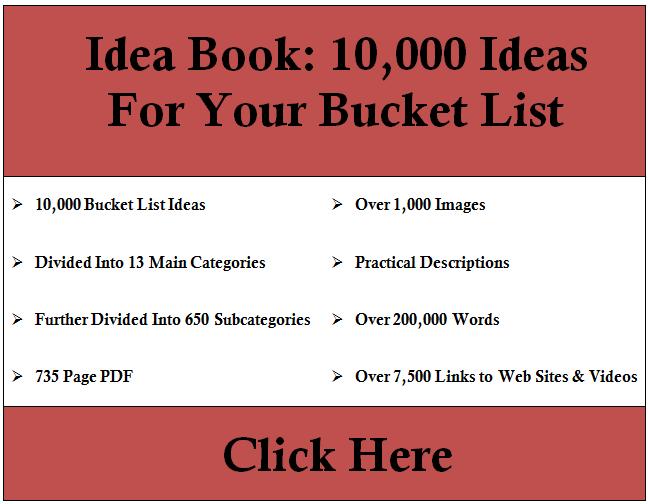 Languages Bucket List
Here are some ideas for your "Languages Bucket List":
34. Learn conversational Spanish.
35. Learn to say "hello" in 50 languages.
36. Learn sign language.
37. Learn Mandarin.
38. Learn Latin.
39. Choose a country and learn not only the language that is spoken there, but also study its customs, its cuisine, its art, and its history.
40. Learn enough Italian to be able to understand opera.
41. Learn your grandparents' native tongue.
Music, Song, and Dance Bucket List
Here are some ideas for your "Music, Song, and Dance Bucket List":

42. Learn to play the piano.
43. Take signing lessons.
44. Learn to play the guitar.
45. Learn to yodel.
46. Compose a song.
47. Release an album.
48. Join the church choir.
49. Learn to sing opera.
50. Play in an orchestra.
51. Conduct an orchestra.
52. Form a band.
53. Enroll in a music appreciation class.
54. Sing Karaoke.
55. Build a Jazz library.
56. Build a classical music library.
Dance Bucket List

57. Salsa
58. Rhumba
59. Cha-cha-cha
60. Tango
61. Waltz
62. Foxtrot
63. Belly Dance
64. Ballet
65. Tap Dance
66. Samba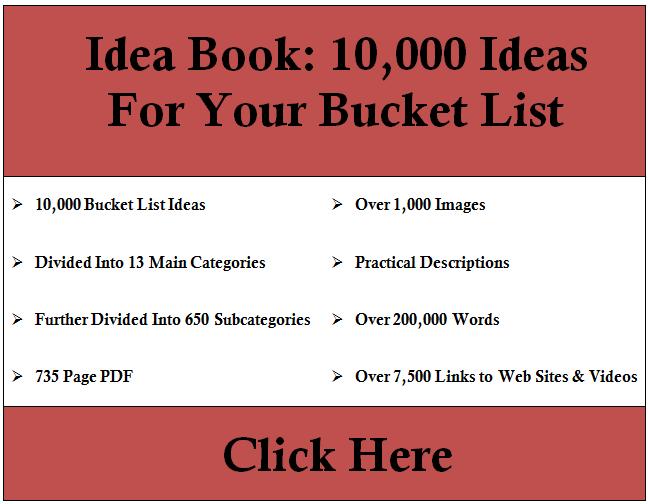 Adventures to Go On Bucket List
Here are some ideas for your "Adventures to Go On Bucket List":
67. Ride in a hot air balloon.
68. Go paragliding.
69. Go parasailing in Acapulco.
70. Go sky diving.
71. Go on a helicopter ride.
72. Go scuba diving.
73. Go snorkeling in a shipwreck.
74. Swim with sharks.
75. Ride a mechanical bull.
76. Climb Mount Kilimanjaro.
77. Climb Mount Everest.
78. Go fire walking.
79. Go bungee jumping.
80. Go white water rafting.
81. Dive in a submarine.
82. Fly in a blimp.
83. Go rock climbing.
84. Learn to fly a plane.
85. Race a sports car.
86. Fire a pistol.
87. Go jet skiing.
88. Take a canopy tour (traversing between trees on a zip line).
89. Go Zorbing in New Zealand.
90. Ride the world's largest Ferris Wheels.
91. Ride the 10 largest roller coasters in the world.
92. Go on a cruise.
93. Visit the wreckage of the Titanic aboard a submarine.
94. Travel to the moon with Virgin Galactic.
95. Experience weightlessness.
96. Go on the world's top ten train rides.
97. Watch a rocket launch, live.
98. Break a Guinness World Record.
99. Go on a cross-country motorcycle trip.
100. Jump from a cliff into deep water.
101. Swim in the largest swimming pool in the world, off the coast of Chile.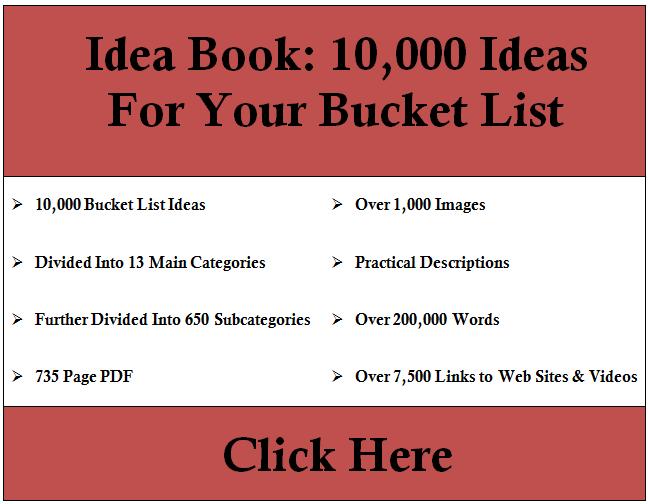 World Festivals Bucket List

Here are some ideas for your "World Festivals Bucket List":
102. The National Cherry Blossom Festival, Washington, DC
103. Loy Krathong, the sky lantern festival in Thailand
104. Oktoberfest, Munich, Germany
105. Brazilian Carnival, Rio de Janerio
106. Mardi Gras, New Orleans
107. The Ati-Atihan Festival, the Philippines
108 The Day of the Dead, Mexico
109. The Galway International Oyster Festival, Galway, Ireland
110. Carnival in Venice, Italy
111. Burning Man in the Black Rock Desert of Nevada
112. La Tomatina, Valencia, Spain
Natural Wonders Bucket List

Here are some ideas for your "Natural Wonders Bucket List":
113. The Grand Canyon
114. Victoria Falls (between Zambia and Zimbabwe)
115. Iguassu Falls (between Brazil and Argentina)
116. The Great Barrier Reef
117. The Galapagos Archipelago
118. The Northern Lights (the Aurora Borealis)
119. The Fjords of Norway
120. The Amazon Rainforest
121. The Perito Moreno Glacier
Places to Visit Bucket List
Here are some ideas for your "Places to Visit Bucket List":
122. The Dome of the Rock, Israel
123. Salzburg, Austria
124. Bora Bora
125. Karnak Temple; Egypt
126. The Terracotta Warriors
127. Hong Kong Harbor
128. Mecca
129. Go on a pilgrimage to Santiago de Compostela.
130. The Leaning Tower of Pisa
131. The Eiffel Tower
132. Dubrovnik, Croatia
133. The Panama Canal
134. Visit all 7 continents.
135. Visit every country in the world.
136. Live in a foreign country for six months.
Island Hopping Bucket List

137. Anguilla
138. Antigua
139. Barbados
140. Dominica
141. Grenada
142. St. Croix
143. St. Maarten
144. St. Thomas
145. Trinidad and Tobago
Famous Monuments Bucket List

146. The Basilica di San Marco, Venice
147. St. Peter's Basilica, the Vatican, Rome
148. The Acropolis in Greece
149. The Alhambra in Spain
150. Gaudi's La Sagrada Familia, Barcelona, Spain
151. The Statues of Easter Island, Chile
152. Hagia Sophia, Turkey
153. Kiyomizu Temple in Japan
154. The Kremlin in Russia
155. The Pyramids of Giza, Egypt
156. Stonehenge, United Kingdom
157. The Sydney Opera House, Australia
158. The Big Ben and the Houses of Parliament, London, England
159. The Parthenon in Greece
160. Machu Picchu, Peru
161. The Coliseum in Rome
162. Petra, Jordan
163. Christ Redeemer, Brazil
164. The Great Wall of China
165. Chichen Itza, Mexico
166. The Taj Mahal, India
167. Notre Dame Cathedral, Paris
Museums Bucket List

168. El Prado in Madrid, Spain
169. The Uffizi Gallery in Florence, Italy
170. The Hermitage in St. Petersburg, Russia
171. Musée de l'Orangerie in Paris, France
172. The Metropolitan Museum of Art in New York, USA
173. The British Museum in London, England
174. The Tate Gallery in London, England
175. The Van Gogh Museum, Amsterdam, Holland
176. The Egyptian Museum in Cairo
177. The Art Institute of Chicago
178. The Smithsonian Museums in Washington, DC
179. The Louvre, Paris, France
Places to Visit in The USA Bucket List
Here are some ideas for your "Places to Visit in the USA Bucket List":

180. See the Golden Gate Bridge in San Francisco
181. Go to the Pike Place Market in Seattle
182. See Mount Rushmore
183. See the Empire State Building
184. Climb up the Statue of Liberty
185. Go to Faneuil Hall Marketplace, Boston, MA
186. Visit SeaWorld Florida, Orlando
187. Go to Universal Studios, Hollywood, CA
188. Visit Waikiki Beach, Oahu, Hawaii
189. Visit Disney World
190. Visit all Fifty of the United States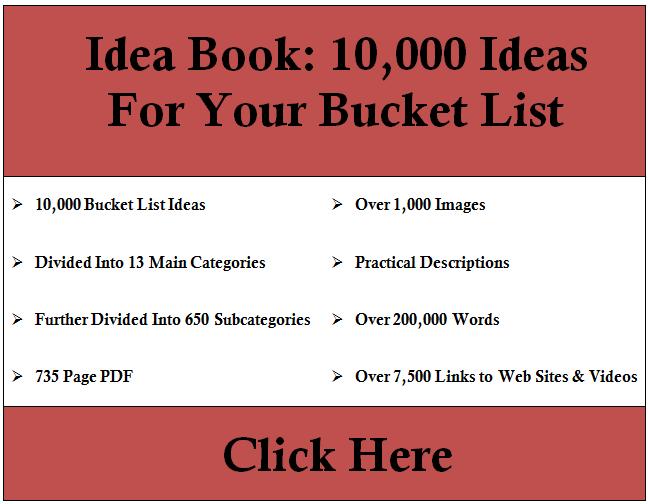 Hobbies Bucket List
Here are some ideas for your "Hobbies Bucket List":

191. Learn how to use a pogo stick.
192. Learn to play chess.
193. Learn to play poker (or bridge).
194. Learn to play pool.
195. Take up photography.
196. Learn to make pottery.
197. Learn to sculpt.
198. Take up astronomy.
199. Learn astrology.
200. Fly kites.
201. Learn how to perform magic tricks.
202. Make mobiles.
203. Keep bees.
204. Learn to juggle
205. Solve the Rubik's Cube
206. Build a village around a model train layout.
207. Construct furniture.
208. Do woodworking.
209. Make stained glass windows.
210. Learn to make candles.
211. Make models of cars, ships or airplanes.
212. Building doll houses.
213. Learn to brew beer.
214. Take up gourmet cooking.
215. Paint – watercolors, oil, acrylics.
216. Gardening
217. Grow prize-winning roses.
218. Restore a classic car.
219. Restore antiques.
220. Learn to draw.
221. Become a Wine Connoisseur.
222. Become a Cheese Connoisseur.
Crafts Bucket List
Here are some ideas for your "Crafts Bucket List":

223. Calligraphy
224. Embroidery
225. Jewelry Making
226. Knitting
227. Needlepoint
228. Quilting
229. Scrapbooking
230. Sewing
231. Crochet
232. Paper Crafts (origami)
233. Beading
Books Bucket List
Here are some ideas for your "Books Bucket List":

234. Make a list of 100 books you want to read.
235. Read the complete works of Shakespeare.
236. Read every novel that has won a Pulitzer Prize in the Fiction Category.
237. Read all of the Russian classics.
238. Read every book your favorite author has written.
239. Read all of Agatha Christie's mystery novels.
Movies Bucket List
Here are some ideas for your "Movies Bucket List":

240. Make a list of 100 movies you want to watch.
241. Watch the American Film Institute's (AFI) 100 Funniest Movies.
242. Watch the 10 greatest American movies of all time (as ranked by the AFI).
243. Watch every movie that has won an Academy Award for Best Picture.
244. Watch every movie that has won the Cannes Film Festival's Palme d'Or.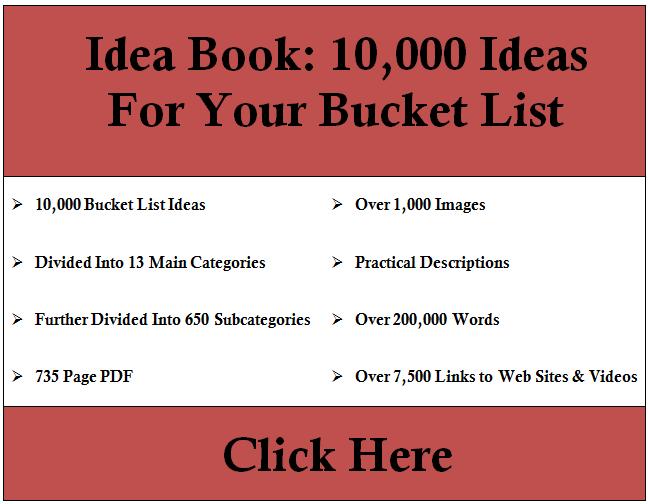 Personal Development Bucket List

Here are some ideas for your "Personal Development Bucket List":
245. Have a happiness project.
246. Release negative emotions and limiting beliefs.
247. Allow yourself to make mistakes.
248. Discover your life's purpose.
249. Learn not to take what others do or say personally.
250. Figure out your priorities.
251. Learn to act within your sphere of influence and stop worrying about things which are not within your control.
252. Become an early riser.
253. Kick negative habits (smoking, overeating, watching too much television, and so on.)
254. Attend one of Anthony Robbins' weekend events.
255. Go to one of Steve Pavlina's Weekend Workshops in Las Vegas.
256. Become a better public speaker by joining Toastmasters.
257. Learn to say "no" without feeling guilty.
Education Bucket List
Here are some ideas for your "Education Bucket List":

258. Finish high school
259. Get your GED
260. Get a college degree
261. Get a Masters
262. Get a PhD
263. Get into Med School
264. Pass the New York Bar
265. Get Certified as a Public Accountant
266. Get an MBA
267. Get Certified as a Financial Planner
268. Get into Harvard
269. Finish first in your class
270. Get into Juilliard
People to Meet Bucket List
Here are some ideas for your "People to Meet Bucket List":

271. Shake hands with Al Gore.
272. Meet Muhammad Ali.
273. Meet your favorite Hollywood star.
274. Meet the President of the United States.
275. Meet Richard Branson.
276. Meet Prince William (and/or Prince Harry).
277. Meet Bill Gates.
278. Meet Donald Trump.
279. Meet your favorite author.
280. Meet Warren Buffet.
281. Meet your childhood hero.
Hit the Big Time Bucket List
Here are some ideas for your "Hit the Big Time Bucket List":

282. Be interviewed on Oprah.
283. Be Time Magazine's Person of the Year.
284. Be interviewed by Piers Morgan.
285. Be listed as one of People Magazine's "50 Most Beautiful People"
286. Be on the cover of "Rolling Stone" Magazine
287. Have a street named after you.
288. Be one of CNN's Heroes (CNN's global search for everyday people changing the world).
289. Win a Nobel Prize
290. Receive a knighthood (or a damehood) from the Queen of England
291. Be elected to political office
292. Be inducted into a Hall of Fame
293. Be awarded a star on the Hollywood Walk of Fame
294. Cut the ribbon at a major opening.
295. Win an Emmy.
296. Make the front page of the newspaper.
297. Be interviewed on The Today Show.
Contributions Bucket List
Here are some ideas for your "Contributions Bucket List":

298. Make a difference in at least one person's life.
299. Build a Habitat for Humanity Home.
300. Volunteer at a soup kitchen.
301. Join the Peace Corps.
302. Donate a million dollars to a charity of your choice (anonymously or not).
303. Donate a million dollars to your alma mater.
304. Make loans to entrepreneurs in developing countries through www.kiva.com.
305. Join a Big Brother, Big Sister Program.
306. Volunteer at a Homeless Shelter.
307. Donate blood.
308. Donate clothes you no longer use to a battered women's shelter.
309. Donate children's books to a hospital near your home.
310. Mentor someone at work.
311. Go Green.
312. Go WWOOFING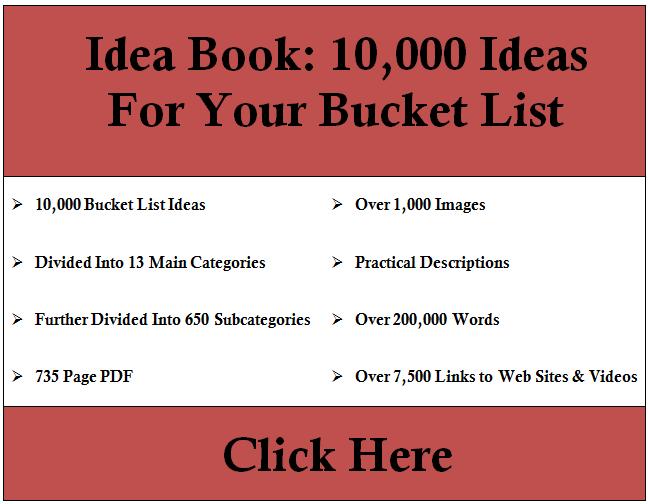 Writer's Bucket List
Here are some ideas for your "Writer's Bucket List":

313. Get an article published in The New Yorker.
314. Get an article published in The Huffington Post.
315. Write and publish a novel.
316. Write a #1 New York Times' Best Seller.
317. Write an eBook.
318. Win NaNoWriMo.
319. Write a children's book.
320. Write a cookbook.
321. Write a play.
322. Write a travel book.
323. Write a textbook.
324. Publish a book of poetry.
325. Write for a TV sitcom.
326. Write a comic book.
327. Crack the Top 100 on Amazon Kindle.
328. Earn enough from your writing to be able to quit your day job.
Things to Audition For Bucket List
Here are some ideas for your "Things to Audition For Bucket List":
329. America's Got Talent
330. A role in a movie
331. A Broadway play
332. A TV sitcom
333. The Apprentice
334. To be an extra in a film
335. The lead part in your community theater's next play
336. A commercial
337. A rock band
The High Life Bucket List

Here are some ideas for your "High Life Bucket List":
338. Shop at Harrods
339. Charter a yacht.
340. Own a beach house.
341. Own a private jet.
342. Vacation at Martha's Vineyard
343. Spend a week at a 5-star spa
344. Shop in Rodeo Drive
345. Go to an auction at Christie's or Sotheby's
346. Have "High Tea" at the Plaza Hotel in New York, or perhaps at Fortnum & Mason in London
347. Own a Rolls Royce, an Aston Martin, or a Bentley
348. Become an art collector
349. Gamble at Monte Carlo, Monaco
350. Drive a Lamborghini or a Ferrari
351. Sleep in a castle
352. Own an island
Vocation/Career Bucket List
Here are some ideas for your "Vocation/Career Bucket List":

353. Be recognized as an authority in your field.
354. Be a world-renowned expert in your field.
355. Be the best in the world in your field.
356. Leave a valuable contribution in your area of expertise.
357. Start your own business.
358. Own a bar.
359. Own a spa.
360. Invent something.
361. Invent a board game.
362. Make a documentary film.
363. Have your paintings exhibited in a gallery.
364. Become a wild life photographer.
365. Sell your original artwork.
366. Become an interior designer.
367. Become an architect.
368. Design furniture.
369. Be a clothes designer.
370. Become a famous chef and open your own restaurant.
371. Become a life coach.
372. Become mayor of your city.
373. Become governor of your state.
374. Become a senator.
375. Become an attorney.
376. Become a judge.
377. Become a dentist.
378. Become a doctor.
379. Become a nurse.
380. Become a personal trainer.
381. Become a yoga instructor.
382. Become a college basketball coach.
383. Become a professional athlete.
384. Become an A-list Hollywood actor.
385. Become a freelance writer.
386. Become a stand-up comedian.
387. Become a journalist.
388. Become a newscaster.
389. Become a teacher.
390. Become a college professor.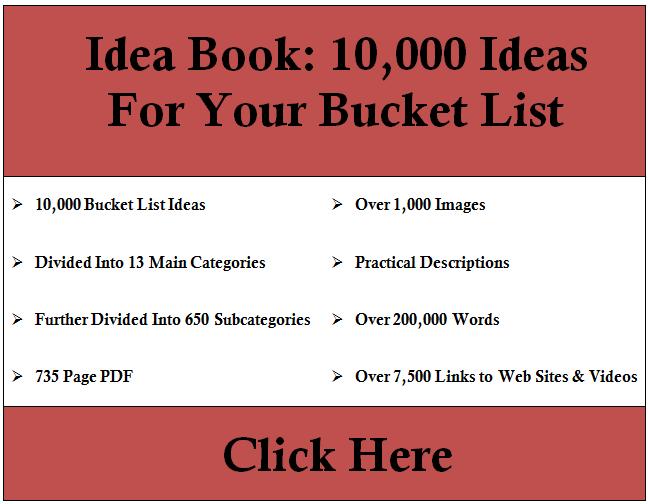 Internet Bucket List
Here are some ideas for your "Internet Bucket List":

391. Create a web site.
392. Start a blog (have it get to the Technorati top 1000).
393. Hit the front page of Digg.
394. Create a YouTube video.
395. Become a Giant Squid on Squidoo.
396. Be highly influential on Social Media.
397. Make a five-figure income from your online ventures.
Finances Bucket List

Here are some ideas for your "Finances Bucket List":
398. Become financially literate.
399. Create a financial strategy.
400. Invest in the stock market.
401. Create enough passive income so that you don't have to work another day in your life.
402. Create a trust fund for your child.
403 Create a corporation to protect your assets.
404. Open a Swiss bank account.
Family Bucket List

Here are some ideas for your "Family Bucket List":
405. Find the love of your life.
406. Get married.
407. Go on that honeymoon that keeps getting postponed.
408. Have a child.
409. Raise a happy and healthy child.
410. Adopt a child.
411. Create a home with an inviting, joyous, comfortable, loving atmosphere.
412. Have a pet
413. Pass on a family heirloom to your child.
414. Create a coat of arms for your family.
415. Write a letter to each of your children telling them what you want them to know about your life and the lessons you've learned.
Animal Kingdom Bucket List

Here are some ideas for your "Animal Kingdom Bucket List":
416. Run with the bulls.
417. Mush a Dog Sled
418. Watch turtles hatch and run for the ocean
419. Have an aquarium.
420. Swim with dolphins
421. Go whale-watching
422. See penguins in their natural habitat.
423. See a platypus
424. See a koala
425. Visit the San Diego Zoo
426. Go on safari.
427. Save a species from extinction.
428. Become a vegetarian
429. Adopt a pet from the animal shelter.
430. Milk a cow
431. Join "People for the Ethical Treatment of Animals" (PETA)
432. Ride a camel in the Sahara desert.
433. See gorillas in the wild in Uganda
434. Go bird watching in Costa Rica.
Dwelling Bucket List

Here are some ideas for your "Dwelling Bucket List":
435. A ranch
436. A farmhouse
437. A penthouse on 5th Ave., New York
438. A house by the lake
439. A beach house
440. A house inspired by Japanese architecture
441. A Tuscan house
442. A Colonial House
443. A house with an inner courtyard
444. A house in the country
What do you want in your ideal home?

445. A rose covered gazebo in the backyard.
446. A fireplace.
447. A meditation room
448. A large kitchen with wooden floors
449. A breakfast nook
450. A herb garden
451. A sauna
452. A whirlpool bathtub.
453. A home office
454. A canopy bed
455. A terrace
456. A pool
457. A well-stocked pantry.
458. A guest bedroom.
459. A skylight in the bedroom.
460. A "great room" (living and dining room) with high ceilings and a grand piano.
461. A wall mural in the hallway
462. A scented linen closet.
463. A nursery.
464. A library filled with leather-bound books.
465. A tennis court.
466. A fountain in the entrance.
467. A wraparound porch.
468. A man-cave in the basement.
469. A yard with fruit trees.
470. A grand staircase.
471. A stable for horses.
472. A fabulous view from the living room.
473. A pond with Koi in the backyard.
474. Grow bonsai trees.
475. Grow orchids.
476. Become a collector.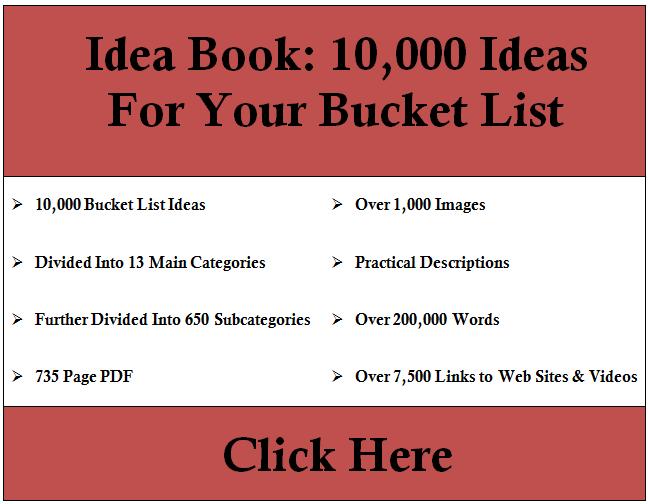 Spirituality Bucket List

Here are some ideas for your "Spirituality Bucket List":
477. Meet the Dalai Lama and/or the Pope
478. Visit Tibet
479. Spend a week at a Silent Retreat
480. Experience bliss
481. Find inner peace
482. Learn to forgive
483. Do all the lessons in "A Course in Miracles"
484. Attend a Native American Sweat Lodge Ceremony
485. Become a Reiki Master
486. Heal your past
487. Learn to live in the now
488. Take up yoga
489. Take up tai chi
490. Take up Qi Gong
491. Have a past life regression.
492. Learn to meditate.
493. Go on an inner awakening retreat in India.
Spectator Bucket List
Here are some ideas for your "Spectator Bucket List" (events you want to be a spectator at):
494. An opera at the Scala of Milan
495. An Armani fashion show
496. A concert by your favorite entertainer
497. Carnegie Hall
498. A Broadway Play
499. A session of the US Supreme Court
500. The TED Talks
501. The Super Bowl
502. The Olympics
503. The World Cup
504. The Indianapolis 500-Mile Race
505. Wimbledon
506. The Kentucky Derby
507. Go To All Four Major Golf Tournaments: Masters, US Open, British Open, and PGA Championship
508. Throw Out the First Pitch at a Major League Baseball Game
Holidays Bucket List
Here are some ideas for your "Holidays Bucket List":

509. See the Radio City Christmas Spectacular
510. Be invited to the Playboy Mansion's annual Halloween Party
511. Go to a St. Patrick's Day Parade
512. Go to the White House Easter Egg Roll
513. Go to the Macy's Thanksgiving Day Parade
514. Go to Times Square on New Year's Eve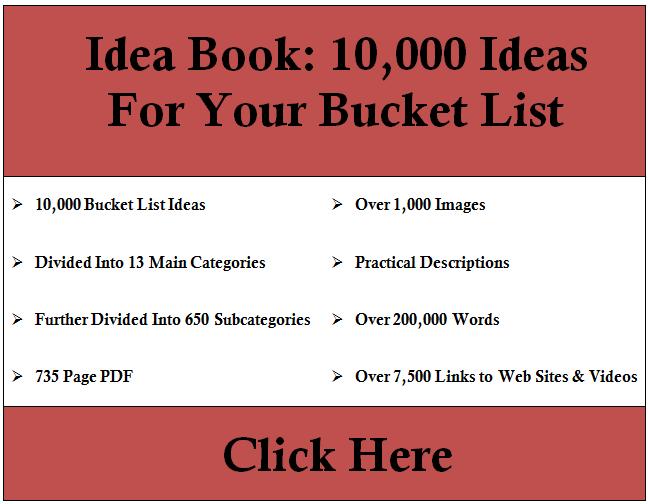 Food and Drink Bucket List

Here are some ideas for your "Foods Bucket List":
515. Huevos Rancheros
516. Cheese Fondue
517. Baba Ghanoush
518. Oysters
519. Baklava
520. Gumbo
521. Chicken Tikka Masala
522. Churros
523. Caviar
524. Escargot
525. Truffles
526. Pupusas
527. Sample crab cakes in Baltimore, MD.
528. Eat fugu (puffer fish from Japan).
529. Pierogi
530. Real balsamic vinegar (from Modena or Reggio Emilia in Italy).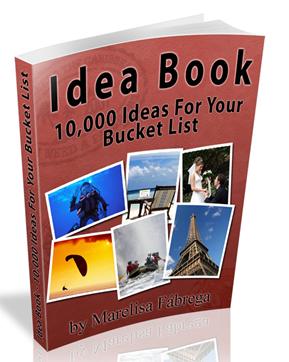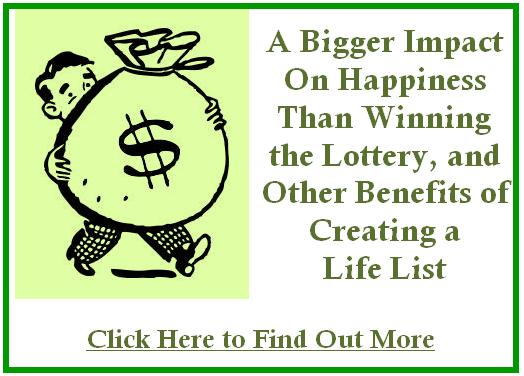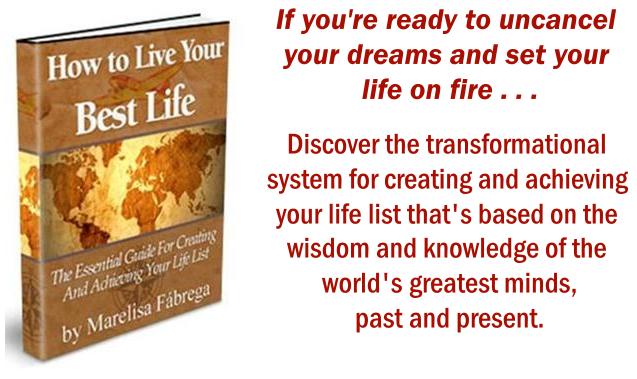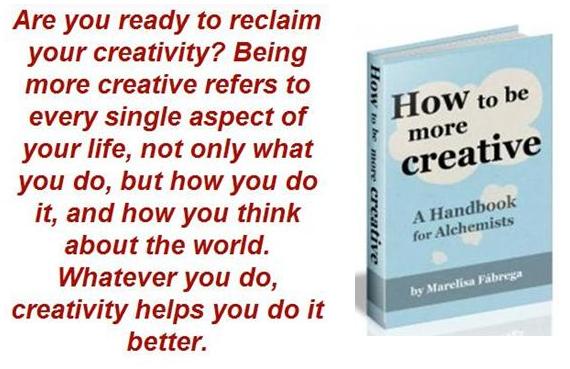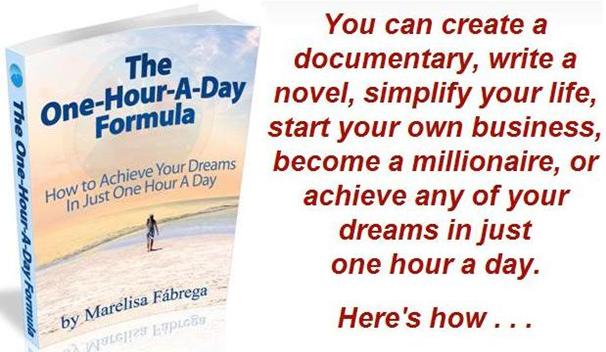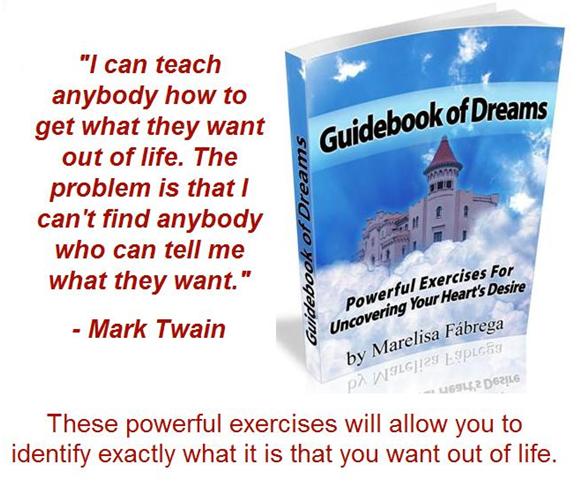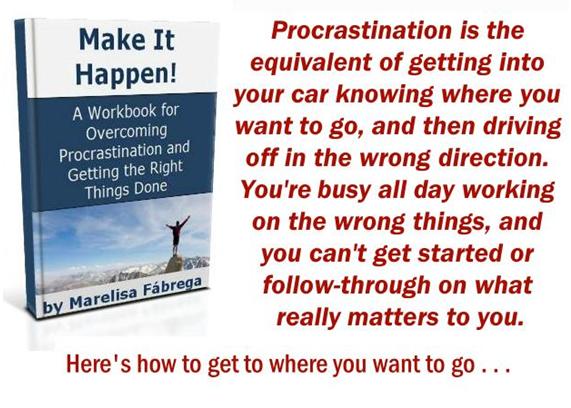 Related Posts:
1. Six Videos to Inspire Your Bucket List
2. 75 Ideas for Your Music, Song, and Dance Bucket List
3. Adventure Quotes: 50 Quotes on Living a Life of Adventure
4. Reverse Bucket List: 50 Things I've Already Done
Did you enjoy this article? Subscribe to "Daring to Live Fully" by RSS or by email, and get free updates.
<a href="http://marelisa-online.com/idea-book/ebook.php" style="color: red; font-size: xx-large; font-weight: normal; line-height: 1em;">Click here for more ideas for your "Sports Bucket List".</a>