How can music be missing from your bucket list? Is there an instrument you would like to learn to play? Have you always wanted to sing opera? Do you have a list of CD's you would like to own? Is "dance tango in Argentina" on your bucket list? Are there any musical milestones you would like to achieve?
Here is a list of ideas for you to consider adding to your Music, Song, and Dance Bucket List.
Music Appreciation Bucket List
1. Build a classical music library.
2. Become an expert in your favorite music genre.
3. Enroll in a music appreciation class.
4. Become familiar with the compositions of Bach, Beethoven, Debussy, Ibert, Mendelssohn, Lalo, Liszt, Rimski-Korsakov, Respighi, Rachmaninoff, Paganini, Stravinsky, Toch, Tschaikosvsky, Verdi (this was taken from John Goddard's Life List).
5. Be certified as a music therapist.
Musical Instruments Bucket List
6. Learn to play the harmonica.
7. Learn to play an instrument by ear.
8. Learn to play the drums.
9. Learn to play your favorite song on the guitar.
10. Learn to play three brass instruments.
11. Learn to play Mozart's "Piano Concerto No. 21".
12. Learn to play Bach's "Toccata and Fugue in D minor" on the organ.
13. Play in an orchestra.
14. Conduct an orchestra.
15. Form a band.
16. Join a string quartet.
17. Perform as a street musician.
18. Learn to play an obscure musical instrument, such as The Hang.
19. Teach a child to play a musical instrument.
20. Play the saxophone with President Bill Clinton.
21. Play the giant piano at FAO Schwartz.
Singing Bucket List
22. Take singing lessons.
23. Learn to sing in perfect pitch.
24. Learn to yodel.
25. Compose a song.
26. Sing karaoke.
27. Sing the national anthem in front of a large crowd.
28. Release an album.
29. Join the church choir.
30. Learn to sing opera.
31. Join a barbershop harmony quartet.
32. Sing a duet with your favorite singer.
33. Compose a jingle for a commercial.
34. Audition for American Idol.
Music to Listen to Bucket List
35. Go to the Havana International Jazz Festival.
36. Go to the Grand Ole Opry in Nashville, Tennessee.
37. Go to a real blues bar in Chicago.
38. Go to a jazz club in New Orleans' French Quarter.
39. Hear Joshua Bell play the violin.
40. Listen to your favorite band play in concert.
41. Watch Lady Gaga perform, live.
42. Go to a Celine Dion concert.
43. Watch Tony Bennett in concert.
44. See Taylor Swift in concert.
45. See Shakira in concert.
46. Follow your favorite band around the country on their tour.
47. Own every album Il Divo has put out.
48. Listen to every piece composed by Frederic Chopin.
49. Listen to the New York Philharmonic at Avery Fisher Hall in the Lincoln Center.
50. Go to a concert of Tuvan throat singers.
51. Get a great stereo system.
52. Take the Sound of Music Tour in Salzburg, Austria.
53. Have someone famous sing at your 50th birthday party.
54. Make a List of the "1,001 Albums You Must Hear Before You Die".
55. Hear Andrea Bocelli singing opera in Milan.
Dances You Would Like to Try Before You Die
56. Rhumba
57. Merengue
58. Cha-cha-cha
59. Tango
60. Ballroom
61. Waltz
62. Foxtrot
63. Belly Dance
64. Ballet
65. Tap Dance
66. Hip hop
67. Flamenco
68. Square Dancing
69. Irish Stepdance
70. Krumping
71. Salsa
72. Pole Dance
73. Learn to dance Bollywood-style
74. Join a dance group.
75. Learning African healing dance.
My ebook, "How To Live Your Best Life – The Essential Guide for Creating and Achieving Your Life List", will show you how to create your bucket list as a blueprint for your ideal life, and turn it into reality. After all, what's the point of creating a bucket list if you're not going to take action in order to achieve it?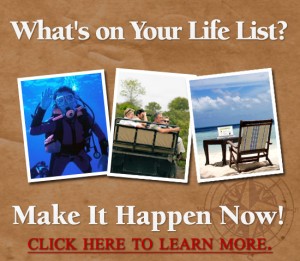 Related Posts:
1. 525+ Ideas For Your Bucket List
2. Adventure Quotes: 50 Quotes on Living a Life of Adventure
3. 50 Ideas for Your Summer Bucket List
4. Reverse Bucket List: 50 Things I've Already Done
I Recommend:
1. How to Live Your Best Life – The Essential Guide for Creating and Achieving Your Life List
2. Make It Happen! A Workbook for Overcoming Procrastination and Getting the Right Things Done
Did you enjoy this article? Subscribe to "Daring to Live Fully" by clicking here and get free updates.