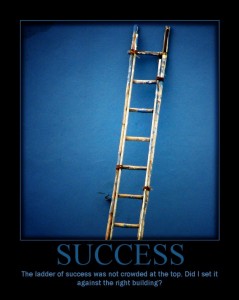 By not drafting your own definition of success, there's a high probability that you're pursuing someone else's definition.  Maybe it's your parents' definition of success, or your boss's, or even society's definition of what a successful life should look like.
You need to be able to answer the following question: What does success mean to you? Below you'll find forty phrases–or success statements–that you can mix and match to create your own, unique definition of success.
Success is:
1.  Making the world a better place.
2.  The attainment of wealth, awards, status, and power.
3.  Pursuing goals that you find meaningful and that you're passionate about.
4.  Making a difference in the lives of others.
5.  To be recognized as one of the foremost experts in your chosen field.
6. Furthering the realm of knowledge in your chosen field.
7.  To feel loved and understood.
8.  Having the love and respect of family and friends.
9.  Doing work you love; finding the work that you like best.
10.  To laugh often.
11.  Having robust health and a high level of energy.
12.  Being happy and content in the now; living in the present.
13.  Crossing off every item on your bucket list.
14.  Having lots of time for leisure activities.
15.  Raising a healthy, happy child.
16.  To use up all of the potential that you came to earth with; making the most of your talents.
17.  To live an exciting life, full of adventure.
18.  Achieving enlightenment.
19.  Achieving inner peace; having peace of mind.
20.  Achieving the right balance between work and family life.
21.  Feeling comfortable in your own skin; feeling good about yourself.
22.  Adequate shelter, food on the table, health, and a happy home.
23.  Going out into the world each day and doing the very best you can. Going to bed each night feeling satisfied that you gave it your all.
24.  Being able to quit your day job and live comfortably off of investment income; financial independence.
25.  Helping others with your unique talents.
26.  Coming up with a truly original idea and seeing it through to its implementation in the real world.
27. Being true to yourself; being authentic.
28. Expressing who you are.
29. To engage in activities in which you get to apply your strengths on a regular basis.
30. Loving another with all your heart and soul.
31. Creating something new and extraordinary.
32. To be the master of your own destiny; to live life on your own terms.
33. "  . . . being happy with what you're doing, constantly growing as an individual, and contributing to other people in meaningful ways." – Joshua Fields Millburn & Ryan Nicodemus–also known as "The Minimalists".
34. " . . . health, happiness, material prosperity, love of family and friends, wisdom, influence, and fulfillment." – Fred Gratzon
35. Fame.
36. Speaking out for what you believe in; having a cause.
37. Making your mark in the world.
38. Being able to express your creativity.
39. To live in a constant state of bliss.
40. Doing what's right, even if it's not what's popular. Living in accordance with your beliefs.
It's vital that you craft your very own definition of success, instead of pursuing the definition of success that others have come up with. What's your definition of success? Please share in the comments section.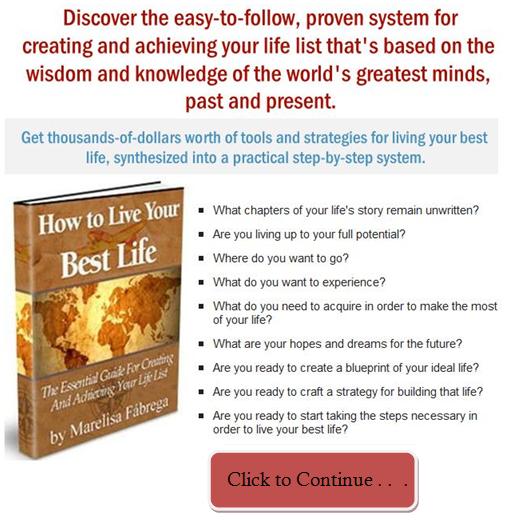 Related Posts:
1. 72 of the Best Success Quotes
2. 5 Life Lessons From Motivation Mega-Star Jim Rohn
3. Dealing With Life's Challenges – Life Is Like a Game of Chutes and Ladders
3. How to Start Your Day the Right Way
I Recommend:
1. How to Live Your Best Life – The Essential Guide for Creating and Achieving Your Life List
2. Make It Happen! A Workbook for Overcoming Procrastination and Getting the Right Things Done
3. How to Be More Creative – A Handbook for Alchemists
4. The One-Hour-A-Day Formula: How to Achieve Your Life Goals in Just One Hour a Day
Did you enjoy this article? Subscribe to "Daring to Live Fully" by clicking here and get free updates.