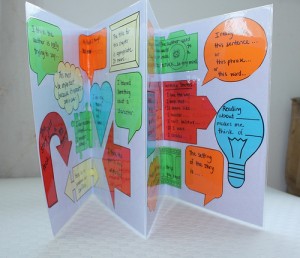 You already know that the best way to improve your writing is by reading, and by writing. But what should you write about? That's where writing prompts come in.
Having a list of prompts that you can pull from every day in order to help you practice your craft, even if it's just for ten minutes a day, can be very helpful. In addition, sometimes creative writing prompts can help spark an idea when you're stuck on a short story or some other fiction piece that you're working on.
Here, then, is a plethora of writing prompts to help you make the most of your writing time.
1. Every Monday Creative Writing Ink publishes a photo or an illustration and you're invited to write a short story or poem using the image featured in the post as your inspiration.
2. If you think that you don't have the time to journal daily, the site The-One-Minute Writer would tell you that all you need is a minute a day. They offer a daily writing prompt to help you do just that. Here are a few examples from the site:
Write about a souvenir you've brought back from a trip.
Write a brief bit of fiction using the prompt "lipstick".
Describe your favorite cookie, as if you're trying to sell it.
What book do you wish you could step into?
3. "The Mysteries of Harris Burdick" is a book that contains fourteen haunting illustrations, each with a title and a caption. Each caption is a seed for a story, which makes the book a great prompt for writing.
One of the illustrations is titled "Uninvited Guests". When you glance at this illustration it looks like a typical storage area, with someone's foot visible on the third step. However, if you look carefully you'll notice a tiny door—maybe 18 inches high–cut into the wall; it has a rounded top and a miniscule doorknob. This is the caption: "His heart was pounding. He was sure he had seen the doorknob turn".
4. The Story Starter is an idea generator which randomly generates 1,660,497,300 story starters. It can be used for short stories, novels, plays, scripts, or just for fun. The story starters are pretty goofy ("The hard-working bagel baker destroyed the evidence in the bus terminal to visit a nephew") but they're a good starting point. For example, you could turn the prompt generated by The Story Starter into something like the following:
He had lived a quiet life as a baker for years, but his past had come back to haunt him. In light of the previous evening's events he had a decision to make. He could either destroy the evidence hidden in Locker 756 at the bus terminal, or he could come clean to his nephew and finally tell him the truth.
5. Here's another story generator: The Plot Scenario Generator.  And here are five interesting plots:
The story starts when your protagonist finds an old book on a friend's shelf.
The story starts when your protagonist tries speed dating.
The story starts when your protagonist discovers that he's being stalked by someone he once dated.
The story starts when your protagonist signs on for a reality show.
The story starts when your protagonist breaks a promise.
6. In case you haven't heard of the term "dystopia", it's a society being ruled by a repressive and controlling government (think of the opposite of a utopia). Dystopian novels are those in which an apocalypse of some sort has taken place–such as a devastating world war, or an epidemic that has wiped out a large portion of the world's population–and, in an effort to rebuild, a police state has been set up which greatly limits the freedom of its citizens.
Examples of dystopian novels include the following:
"The Handmaid's Tale" by Margaret Atwood
"1984" by George Orwell
"Fahrenheit 451" by Ray Bradbury
"The Children of Men" by P.D. James
If you would like to try your hand at a dystopian novel, here's an apocalypses generator to help give you some ideas, including the following:
bio-engineered plague
demonic creatures
carnivorous plants
7. Here's another story generator: Quick Story Idea Generator. And here's an idea generated by this tool:
The theme of this story: psychological drama.
The main character: stupid jailer.
The major event of the story: smuggling.
8. If you want to write a short story, here's a site filled with ideas: Short Story Ideas. It has ideas for your story's characters, ideas for scenarios, ideas for your short story's title, ideas for the first line, twist ideas, and so on.
Some theme ideas include the following:
Vanity
Jealousy
Revenge
Envy
Self-doubt
Disappointment
Some story twist ideas include the following:
A woman turns out to be a man.
The villain turns out to be the hero.
Someone who is supposed to be dead is actually alive.
9. Writer's Digest has a great list of writing prompts here. Ideas from the site include the following:
For the last 10 years, kids have been toilet papering your house on Halloween night. Unfortunately for them, this is the year you finally decided to get even. Write about your night of retaliation.
You received a call from your alma mater and they want you to be the keynote speaker at graduation. Write a speech that inspires the future generation to work toward their dreams.
After living for years paycheck to paycheck, a windfall of money comes your way from a distant uncle. But in order to receive the money, you must complete a mission from your uncle's will. What's the mission and did you do it?
10. The site The Write Prompts posts writing prompts seven times a week. The site includes images to use as prompts, quotes to use as prompts, one word story starters, poetry prompts, and so on. Here are some of the ideas included in the site:
Write a story of a teen thinking of committing suicide and either changing their mind, or succeeding.
Make a list in your journal of twenty-five words or phrases that come to mind when you think of Halloween. No phrase can be more than five words.
Story starter: "One day I woke up and discovered that I could move things with my mind."
11. The blog "Try Creative Writing: The Sky's the Limit" is full of writing prompts. Here are some examples:
Try and tell someone a bedtime story as they lay ready to sleep. Write the story down. If you don't have someone to tell a bedtime story, pretend you do!
Think of a book you've read recently or a movie you've seen. Try and find the story within the story. Create the background story for one of the characters or the catalyst for an event that took place in the story.
12. Melissa Donovan from the blog "Writing Forward" wrote a post containing "25 Creative Writing Prompts". Here are my favorite three:
There's a man in his mid-forties sitting on a park bench reading a newspaper…
There is a magic talisman that allows its keeper to read minds. It falls into the hands of a young politician…
And you thought dragons didn't exist . . .
In addition, Melissa has written a book containing "101 Creative Writing Exercises." Here's one of the exercises from her book:
"Art begets art. Each day, try to experience some form of art or entertainment. Go to a museum and look at paintings and sculptures (or view them online). Listen to an album. Watch a foreign film. Try to experience a mixture of fine art and pop culture entertainment. Then, write about it."
13. Anjie is an English teacher who decided to start a blog in order to share creative writing prompts. Here are some of the prompts you'll find on her blog, Creative Writing Prompts for Writers:
Write about a collection, either yours or a collection belonging to someone else. It could also belong to a character in a novel you're writing, or it could be an object you would like to collect, if you had the money.
Write about a memory of blueberries.
Write a commercial and include an element of surprise, like in the Dairy Queen commercial below:

14. Here's a Tumblr filled with writing prompts. Three of the best ones are the following:
Write a presidential speech with five ideas for fixing schools.
Make a list of ten things you want to remember. Make a list of ten things you want to forget.
Pick a person you admire and write "The Official Ten-Step Guide to Becoming the Next . . . "
15. The site "The Journal" contains journaling prompts, prose prompts, poetry prompts, free writing prompts, opinion prompts, and memoir prompts. Here's an example of each:
Journaling Prompt: Pretend that you're watching yourself walking into a room. What would your first impression of yourself be?
Prose Prompt: Write about someone discovering a key.
Poetry Prompt: Write a poem that starts with "What good is a day . . ."
Free Writing Prompt: Write for 20 minutes using a laundromat as your setting.
Memoir Prompt: If you had 15 minutes to tell someone who you are, what would you tell them?
Opinion prompt: Do you think that people have the right to decide when to end their lives?
16. The blog "Creativity Portal" has a goldmine of prompts here. These include Autumn Writing Prompts, such as the following:
Write freely by choosing as many of these words as you'd like: acorns, leaves, colors, red, yellow, orange, green, brown, branches, twigs, aroma, burning leaves, crunch leaves, pressing leaves, smells, sights, sounds, color, vibrant, pumpkins, Halloween, ghosts, gourds, ghouls, vampires, costumes, dressing up, candy, treats, tricks, trick-or-treat, turkey, Thanksgiving, family, dinner, pilgrims, Mayflower, Indians, feathers, corn, popcorn, arts and crafts, gifts, pumpkin pie, whip cream, apples, orchard, cranberry sauce, potatoes, cornbread, stuffing, green beans, applesauce, cooking, warm, aroma, cinnamon, apple pie, vanilla ice cream, ham, food, abundance, thankful, cold, frost, snow, football, snowflakes, raking, rake, leaf piles, campfires, hiking, nature, forest, woods
17. Georges Polti was a French writer best known for his list of thirty-six dramatic situations. Basically, he argued that all stories boil down to just 36 dramatic situations and takeoffs of those situations (someone later added #37).  This site will randomly suggest one of these dramatic situations for your novel or short story.
For example, when I clicked on it I got the following:
Your Situation: #35 – Recovery of a Lost One
18. My blog post 119 Journal Prompts for Your Journal Jar contains exactly what the title says: 119 journal prompts. Here are three examples:
The most disappointed I've ever been . . .
Look through your family photographs and choose a few to write about.
Write about your favorite book character.
19. My eBook, "Create Your Life Story", contains 444 memory prompts, covering several life areas, to help you get started recording your memories and writing your life story. Here are three of the prompts you'll find inside:
Was there anything noteworthy about your mother's upbringing –she grew up in extreme poverty or extreme wealth; she grew up during the Great Depression; she grew up surrounded by artists, philosophers, or politicians; her family moved around a lot when she was growing up; and so on?
Write down three of your father's favorites (it could be his favorite singer, his favorite book or author, his favorite movie, his favorite time of the year, his favorite basketball player, his favorite artist, his favorite meal, his favorite dessert, and so on).
Do you have any famous or high profile family members? If so, write about them.
 Conclusion
"The best learning comes in the doing, and writing from prompts engenders doing."
— Judy Reeves
I hope you enjoyed the creative writing prompts above. Of course, you can start creating your own prompts; inspiration is all around you:
You can use dialogue from a conversation that you overhear on the subway on your way to work.
You can use interesting tweets in your Twitter stream. Here's one I came across: "Exotic animals–including monkeys, lions, and tigers– roam the streets of Zanesville, Ohio after being let loose by their owner, who then fatally shot himself."
You can use newspaper headlines.
You can use dialogue you hear on TV: "Are some things better left buried?" (from the TV show Veronica Mars).
Writing prompts are  a great creativity tool. In addition, you can find more inspiration for your writing here: "350 Tips For Writers, From Writers".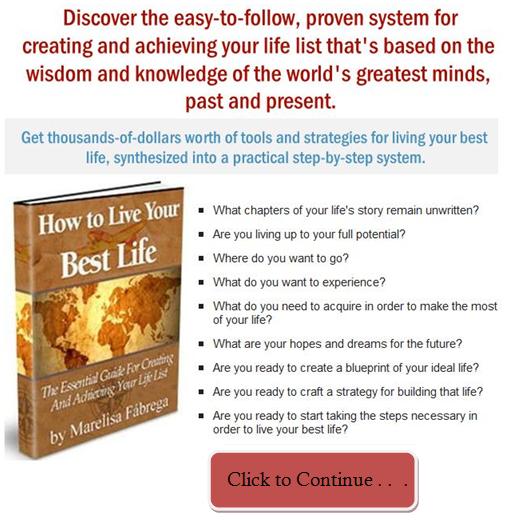 Related Posts:
1. Ray Bradbury's Best Writing Advice
2.Creativity Tools: 24 Free Online Creative Thinking Tools
3.57 Tips For Writers, From Writers
4. Stuck for An Idea? Try SCAMPER
I Recommend:
1. How to Live Your Best Life – The Essential Guide for Creating and Achieving Your Life List
2. Make It Happen! A Workbook for Overcoming Procrastination and Getting the Right Things Done
3. How to Be More Creative – A Handbook for Alchemists
4. The One-Hour-A-Day Formula: How to Achieve Your Life Goals in Just One Hour a Day
Did you enjoy this article? Subscribe to "Daring to Live Fully" by clicking here and get free updates.