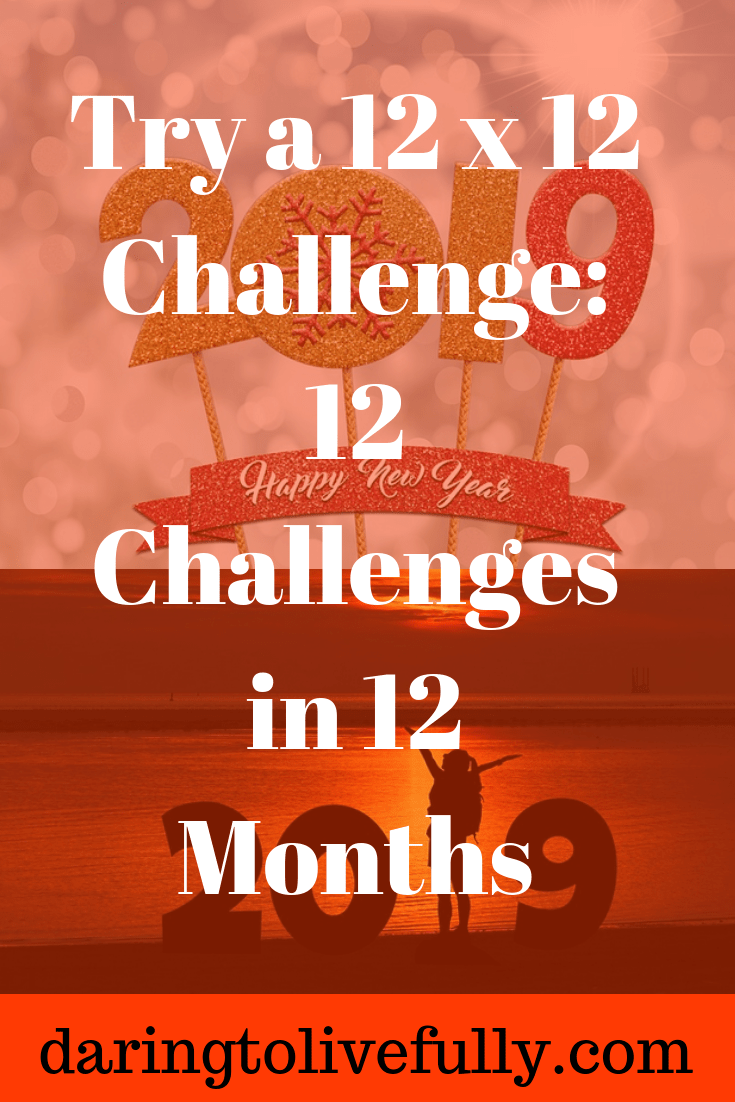 This year, take a 12 x 12 Challenge.
Every year I write a post on how to make the most of the new year. Here are some of the new year posts I've written in the past: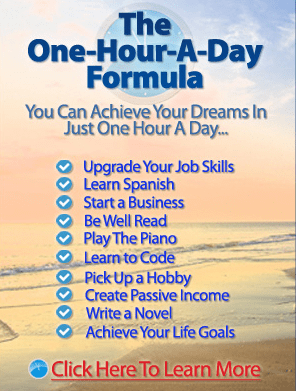 And this year it will be no different. My recommendation for 2019 is that you try a 12 x 12 Challenge. A 12 x 12 Challenge is simply 12 mini-resolutions, one for each of the 12 months of the year. The 12 mini-resolutions can lead to the completion of one large resolution by the end of the year, but not necessarily.
I've designed several 12 x 12 Challenges for you to choose from, and you'll get a better idea of what I'm talking about when you look through the challenges I've prepared. Of course, you can also use these challenges as inspiration to create your own.
You'll find the 12 x 12 Challenges below. (At the end of the post there's a 12 x 12 Challenge Sheet you can download to create your own 12 x 12 Challenge for 2019).
12 x 12 Reading Challenge
A popular New Year's resolutions is to read more. If this is one of your resolutions, you can achieve it by taking a 12 x 12 Reading Challenge.  This challenge consists of reading one book a month, for a total of 12 books in a year. That's doable.
So, what should you read for your 12 x 12 Reading Challenge? You can choose to read 12 books in your area of expertise, or you can begin the journey of becoming an expert in a whole new area by reading the 12 most important books in that subject.
You can also choose to read some of the classics you didn't get to in high school or college. In fact, you can make things even more interesting by sticking to one author. As an illustration, you can make 2019 the Year of Charles Dickens. That challenge could look as follows:
January – A Tale of Two Cities
February – The Pickwick Papers
March – Oliver Twist
April – Nicholas Nickleby
May – The Old Curiosity Shop
June – Great Expectations
July – David Copperfield
August – Bleak House
September – Hard Times
October – Little Dorrit
November – Barnaby Rudge
December – A Christmas Carol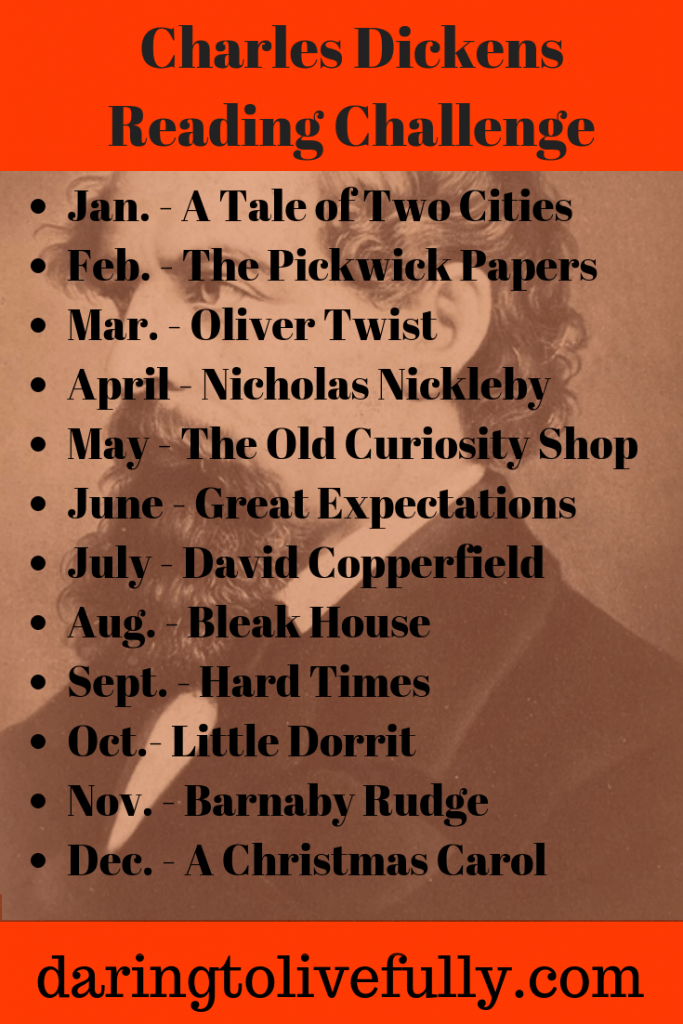 I haven't decided whether I'm going to take this challenge yet, but I am reading "A Tale of Two Cities" right now. (For anyone wondering, the two cities are London and Paris).
Here's another 12 x 12 Reading Challenge you can try if you would like to read the classics:
January – A British Classic
February –A Short Classic (less than 150 pages)
March – A French Classic
April – A Classic Written By a Woman
May – An American Classic
June – A Russian Classic
July – A Classic You Previously Started But Didn't Finish
August – Re-read Your Favorite Classic
September – A Classic That's More Than 200 Years Old
October – A Horror Classic
November – A Play That's Considered a Classic
December – A German Classic
12 x 12 Learning New Skills Challenge
This year, learn a new skill. Better yet, learn 12 of them. It can be done. The trick is to keep it simple and aim to be "good enough". Here are some ideas for the skills you could choose to learn:
January – Time Management
February – Drawing
March – Cooking
April – Singing
May – Salsa Dancing
June – Knitting
July – Photography
August – Weightlifting
September – Basic Car Repairs
October – Meditation
November – Power Point
December – Public Speaking
Your challenge can consist of twelve skills that are not related to each other, like the challenge above. However, an even better idea is to choose 12 sub-skills that will allow you to carry out a more complex skill.
For example, if you want to start a blog in 2019–which I highly recommend–you could set up the following 12 x 12 Learning New Skills Challenge:
January – How to Use and Manage WordPress
February: How to Write for the Web (Content Creation)
March: Search Engine Optimization (SEO)
April – Copywriting (craft compelling copy)
May – Grow and Convert Traffic
June – Online Marketing
July – Using Twitter effectively
August – Instagram Marketing
September – Using Pinterest to promote your brand
October – How to use Facebook
November – Branding
December – Using Visual Elements to Enhance Your Blog Posts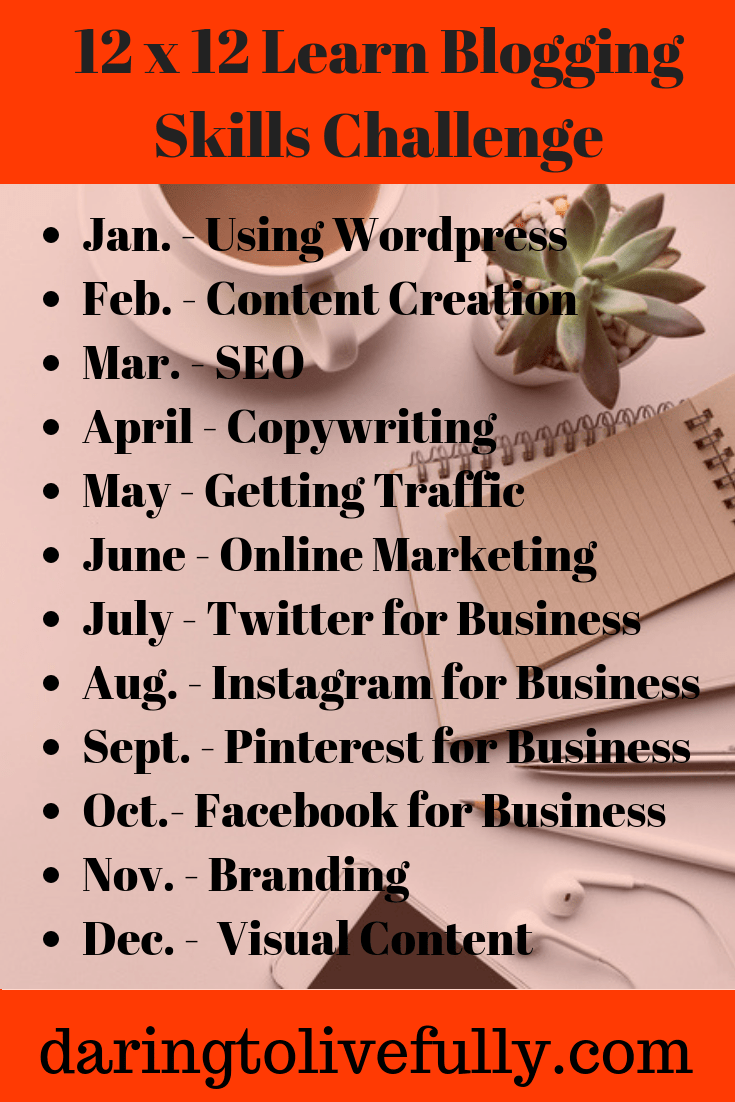 If you take on this challenge, by the end of the year you'll have 12 new weapons in your arsenal of skills.
12 x 12 Microadventures Challenge
I think it's safe to say we could all use more adventure in our lives. The good news is that adventures don't have to be far away, expensive, dangerous, or complicated. Be more adventurous in 2019 by taking 12 microadventures.
A microadventure is any adventure that's short, close to home, cheap, and simple. Therefore, it's achievable.  The term was coined in the book Microadventures by British explorer Alastair Humphreys .
Here's an example of a 12 x 12 Microadventures Challenge you can choose to take in 2019:
January – Eat a food you've never tried before.
February – Visit a nearby town–staying the weekend is optional.
March – Try a different way of getting to work – walking, cycling, taking the bus, or even skating.
April – Go geocaching – an outdoor recreational activity that involves hunting for hidden objects using GPS coordinates posted on a website.
May – Sleep under the moon (it can even be in your own backyard).
June – Swim in the wild – find a river or a lake, and jump in.
July – Go to a beach you've never been to before (bonus points if you try a new water sport).
August – Spend a day eating only what you catch or forage.
September – Climb a hill and have a picnic when you get to the top.
October – Get on the subway and go to the end of the line.
November – Attend a festival or fair.
December – Be a tourist in your own town – visit a place in your town you've never been to before, such as a historical site, museum, or gallery. You can even take a walking tour of your city.
Don't the microadventures above sound like fun? I think so!
12 x 12 Passion Projects Challenge
A while back I wrote a blog post on 14 Reasons to Start a Passion Project.  Here's how I define "passion project":
"A passion project is an activity or enterprise that you decide to take on—usually in your spare time–in order to gain some benefit for yourself."
This year, why not commit to 12 small passion projects? Here are some ideas:
Create 12 picture books in 12 months.
Write 12 short stories in 12 months.
Complete 12 Lego challenges — adults can play with Legos.
Paint 12 watercolors, one for each month of the year.
Design 12 websites to add to your portfolio.
This is another 12 x 12 Challenge I'm tempted to try this year.
12 x 12 Do-It-Yourself (DIY) Projects Challenge
Improve your home this year with 12 do-it-yourself (DIY) projects. Here are some ideas:
January – Turn a corner of a room into a small home office.
February – Give your kitchen cabinets a new finish.
March – Put up a bookshelf.
April – Turn a closet into a mudroom.
May – Turn a shabby cabinet into a bar cart (or a coffee cart).
June – Build swings in the backyard.
July – Build a chicken coop.
August – Transform an old file cabinet into garage storage.
September – Revamp your nightstands.
October – Upcycle an item from a thrift store.
November – Create a reading nook.
December – Create art for your living room wall.
12 x 12 Lifestyle Experiments Challenge
Become a better person in 2019 by conducting lifestyle experiments. Twelve of them, to be more precise. Through experimentation you'll be stepping out of your comfort zone and you'll discover practices you can adopt to become a better version of yourself.
Here's an idea of what your 12 x 12 Lifestyle Experiments Challenge can look like:
January – Try daily brachial hanging (holding on to a horizontal bar and hanging relaxed with loose shoulders).
February – Wake up at 4:30 a.m. for a month.
March – Go vegan for a month.
April – Go without social media for a month.
May – Write 1000 words a day for 30 days.
June – Try the Paleo diet for a month – a dietary plan based on foods similar to what early humans ate.
July – Try a 30-day no spend challenge during which you don't buy anything that isn't necessary to live.
August – Do one simple exercise–like walking for twenty minutes–every day for a month.
September – Create something every day for a month.
October – Don't watch any television for a month (this includes watching shows on your computer).
November – Don't read or watch the news for 30 days.
December – Do yoga every day for a month.
Conclusion
Which of the 12 x 12 Challenges above peaked your interest? They all look good to me, and I'm going to have a hard time choosing one. But choose I must. Live your best life by taking a 12 x 12 Challenge.
You can download the 12 x 12 Challenge Sheet which you can use to design your 12 x 12 Challenge, below.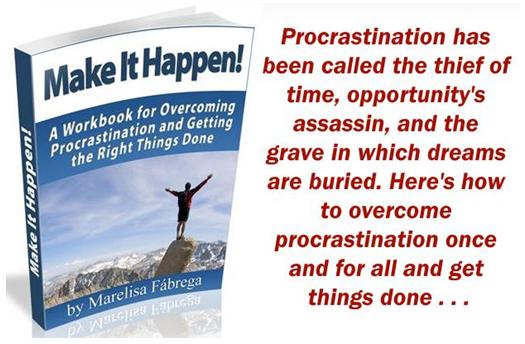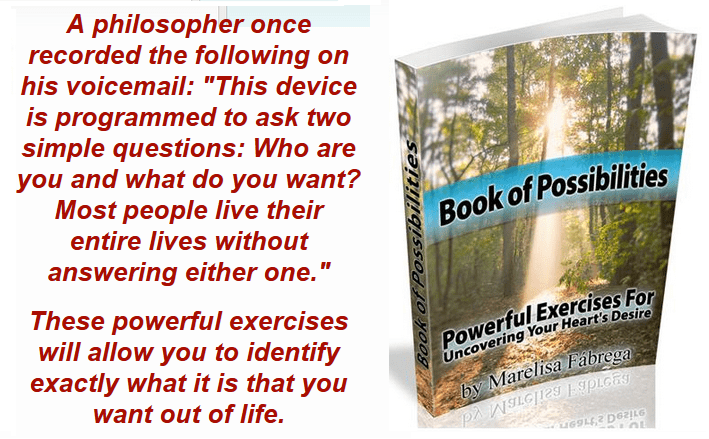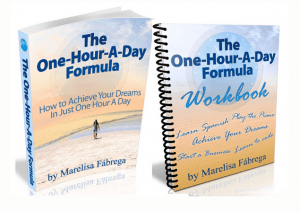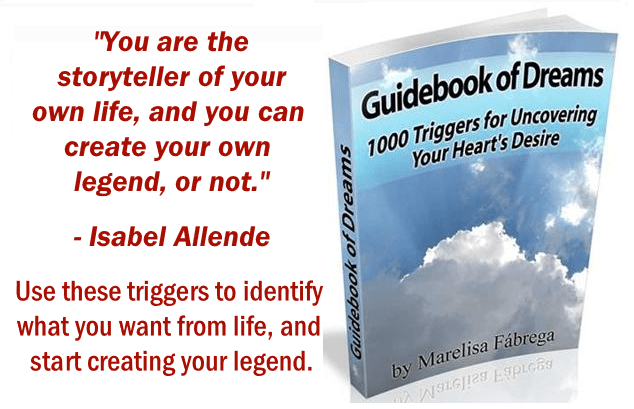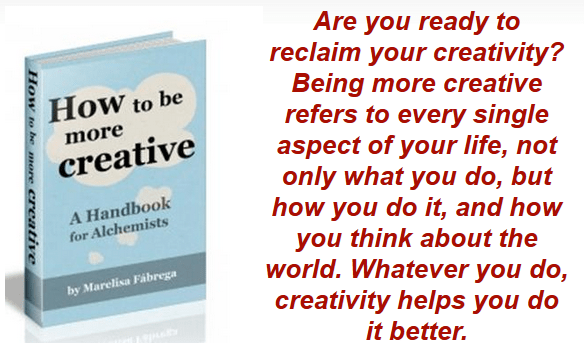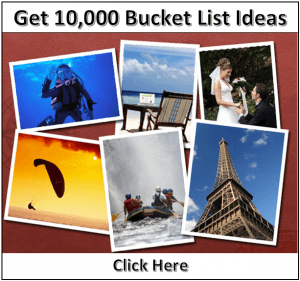 Related Posts: