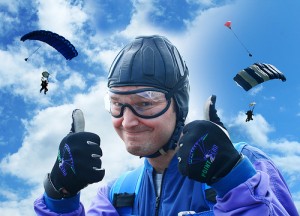 If you've been procrastinating on creating a bucket list, it may be that all you need is a little inspiration. Here are six videos which will inspire you to get started writing down everything you want to be, do, and have in life.
Poet Gabrielle Bouliane
Poet Gabrielle Bouliane gave a brilliant performance at the Austin Poetry Slam after being told by her doctor that she was dying of cancer. She passed away shortly after giving said performance. Here's part of what she said:
"What are you waiting for? Why aren't you being everything that you can be right now? Why haven't you asked that crush you have out on a date? Or applied for your motorcycle license? Or told your family you're going back to school to become the one career you've always wanted to become, whether it's sensible or not?

I know you've heard it a thousand times: 'You only get one life'. Let me rephrase that in a way that will make more sense: 'You're going to die, sometime, somehow.' The only difference between you and me is that I may have an idea of when and how . . . Do not wait . . . Start today and change your life to the best it can be."
Watch her performance below:
Then, read her poem, "When You Hear That I Have Died, Think of This". Here are two stanzas from her poem:
"When you hear that I have died, and you will, remember your best revenge is to live well, take risks, save up money and chase your perfect happiness. Beat the system and learn to make your art really support you, craft into something your audience can't live without. Then make the world an even slightly better place — stop throwing your cigarettes on the ground, vote in the next election, graffiti your life on the eyes of the hungry.

Then just do me one last favor. Please. Love something. Anything. Start with yourself, but find passion in everything, from an apple pie to a novel, make a family, get a degree, walk whatever path is yours with your chin up and feet planted firmly. Have the best stories to tell in the old folk's home, about lifelong friendships and epic love affairs, about the time you lost everything and yet found yourself happier than when you began . . ."
John Goddard – The World's No. 1 Goal Setter
"From early childhood I had always dreamed of becoming an explorer. Somehow I had acquired the impression that an explorer was someone who lived in the jungle with natives and lots of wild animals, and I couldn't imagine anything better than that! Unlike other little boys, most of whom changed their minds about what they want to be several times as they grew older, I never wavered from this ambition."-  John Goddard
John Goddard is one of the world's most famous anthropologists, explorers, and adventurers. As a 15-year-old John sat down and wrote out a list of 127 adventures he aimed to experience before he died. Since then he's accomplished about 111 of those goals, which include things such as climbing the world's tallest mountains, exploring the world's greatest rivers, reading the complete works of Shakespeare, flying a plane, and visiting every country in the world.
Watch John Goddard talking about his life list in the video below:
Live Like You Were Dying
The song "Live Like You Were Dying" by Tim McGraw is part of the soundtrack for the movie "The Bucket List".  Here's the first verse and the chorus:
He said I was in my early forties, with a lot of life before me
And a moment came that stopped me on a dime
I spent most of the next days, looking at the x-rays
Talking bout' the options and talking bout' sweet time.
I asked him when it sank in, that this might really be the real end
How's it hit ya when you get that kind of news?
Man what did ya do?
He said

I went skydiving
I went rocky mountain climbing
I went two point seven seconds on a bull named Fu Man Chu
And I loved deeper
And I spoke sweeter
And I gave forgiveness I'd been denyin'
And he said some day I hope you get the chance
To live like you were dyin'
Listen to the song below:
The Bucket List
"The Bucket List" with Jack Nicholson and Morgan Freeman is the movie that started the recent bucket list frenzy. Both men are facing terminal diseases, and they leap from planes, drive race cars, eat caviar, motorcycle on the Great Wall of China, and have other adventures they've been putting off before they "kick the bucket."
Watch the trailer below:
One Week
Ben Tyler (Joshua Jackson) is an elementary school English teacher living in Toronto, Ontario. Ben is told that he has been diagnosed with an aggressive form of cancer and that he has a ten percent chance of survival and likely two years to live. His doctor advises him to go into treatment immediately to give himself the best odds of survival.
Soon after leaving his doctor's office, Ben encounters and elderly man selling his motorcycle from out of his garage, and he decides to buy it and take a bike trip from Toronto, through the Canadian prairies, to British Columbia.
During his trip he realizes that he's not truly in love with his fiance, and he thinks of his life-long dream to write a novel.
Watch the trailer below:
Last Holiday
In the film "Last Holiday", Georgia Byrd (played by Queen Latifah) works in retail. One day she's told by her doctor that she has three weeks to live. Upset and distraught, she goes home to look through her "Book of Possibilities" (a book with all the goals she wants to achieve). Thinking it's all over, she gathers her money, quits her job, and flies to a swanky European resort she's always dreamed of visiting and has the time of her life.
Luckily, she discovers that she's not really about to die, and goes on to marry the man of her dreams and fulfill her life's ambition of being a chef at her own restaurant.
Watch the video below:
My ebook, "How To Live Your Best Life – The Essential Guide for Creating and Achieving Your Life List", will show you how to create your bucket list as a blueprint for your ideal life, and turn it into reality. After all, what's the point of creating a bucket list if you're not going to take action in order to achieve it?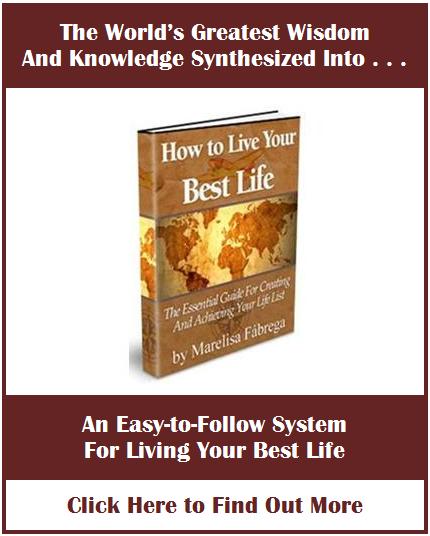 Related Posts:

1. 525+ Ideas for Your Bucket List
2. 75 Ideas for Your Music, Song, and Dance Bucket List
3. Adventure Quotes: 50 Quotes on Living a Life of Adventure
4. 50 Ideas for Your Summer Bucket List
5. Reverse Bucket List: 50 Things I've Already Done
I Recommend:
1. How to Live Your Best Life – The Essential Guide for Creating and Achieving Your Life List
2. Make It Happen! A Workbook for Overcoming Procrastination and Getting the Right Things Done
Did you enjoy this article? Subscribe to "Daring to Live Fully" by clicking here and get free updates.