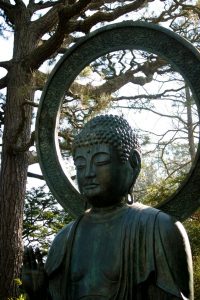 A bucket list isn't just about the places that you want to visit and the adventures that you want to go on. Instead, your bucket list should contain the goals that you want to attain in all the different areas of your life, including the area of spirituality. In this post you'll discover 60 ideas for your Spiritual Bucket List (after all, inner travel is just as important as outer travel).
1. Meet the Dalai Lama (or at least be present at one of his lectures).
2. Visit Tibet.
3. Spend a week at a Silence Retreat (or just a weekend).
4. Experience complete bliss.
5. Find inner peace.
6. Learn to live in alignment with spiritual values, including forgiveness, compassion, love for others, and gratitude.
7. Do all the lessons in "A Course in Miracles".
8. Attend a Native American Sweat Lodge Ceremony.
9. Become a Reiki Master.
10. Heal your past.
11. Learn to live in the now; learn to live mindfully.
12. Take up yoga.
13. Take up Tai Chi.
14. Take up Qi Gong.
15. Have a past life regression.
16. Drink or bathe in Lourdes water. This is water which flows from a spring in the Grotto of Massabielle in the Sanctuary of Our Lady of Lourdes, France.
17. Spend three months in a Buddhist monastery.
18. Become a Zen Master.
19. Get your chakras aligned.
20. Get an Akashic Record Reading.
21. Read the Bible in full.
22. Read the Koran.
23. Read "The Upanishads" (a collection of philosophical texts which form the theoretical basis for the Hindu religion).
24. Learn Mindfulness Meditation.
25. Go on an Inner Awakening Retreat in India.
26. Attend a major religious service for at least four different religions.
27. Try Bikram yoga (in which the room is heated to 110 degrees).
28. Witness a miracle.
29. Visit the places where Jesus walked in Jerusalem.
30. Learn to pray.
31. Join a Prayer Group.
32. Make Tibetan Buddhist prayer flags.
33. Learn to see the good in others.
34. Become a priest, a nun, or an ordained minister.
35. Pray at the Western Wall.
36. Spend Christmas in Bethlehem.
37. Purchase a rosary in Rome which has been blessed by the Pope.
38. Attend a service at the Vatican.
39. Visit Mount Sinai (where Moses received the ten commandments).
40. Visit the Tomb of Abraham in the Cave of the Patriarchs.
41. Go on a pilgrimage to Mecca.
42. Attend a religious service once a week, every week, for a year.
43. Give up meat (cigarettes, chocolate, coffee, or alcohol) for Lent.
44. Become friends with someone with a religious background that's very different from yours and ask them about their religious beliefs.
45. Go on a "Walkabout" in the Australian Outback.
46. Visit the 50 holiest sites in the world.
47. Hike the Camino de Santiago (hike to Santiago de Compostela in northwestern Spain).
48. Give away a part of your income to the less fortunate on a regular basis.
49. Read and understand 100 Zen Koans.
50. Celebrate Iftar with a Muslim family (the evening meal when Muslims break their fast during the Islamic month of Ramadan).
51. Join the Spiritual Cinema Circle and watch an inspirational film once a week.
52. Be able to answer spiritual questions such as the following:
Why is there suffering in the world?
Is there life after death?
Why do bad things happen to good people?
Are we all one?
What is the meaning of life?
53. Practice Ahimsa (the principle of non-violence).
54. Interview a spiritual teacher and ask him or her spiritual questions that you've always wondered about.
55. Become more loving.
56. Bring more spirituality to your everyday life.
57. Raise your consciousness.
58. Be mentored by a renowned spiritual teacher.
59. Learn to identify with your higher self, instead of identifying with your ego.
60. Go on a shamanic journey or vision quest.
What's on your Spiritual Bucket List? Please share in the comments section below.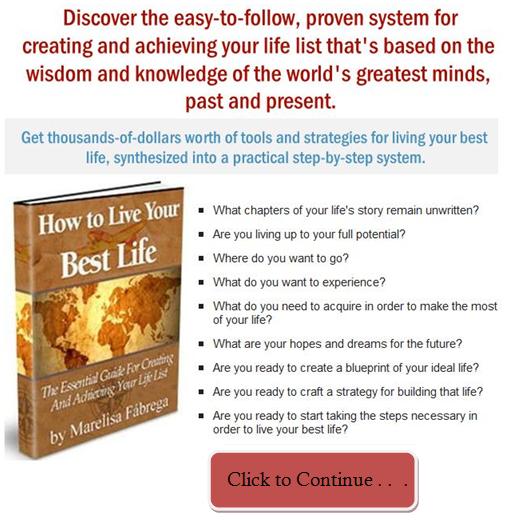 Related Posts:
1. 525+ Ideas for Your Bucket List
2. 75 Ideas for Your Music, Song, and Dance Bucket List
3. Six Videos to Inspire Your Bucket List
4. 85 Questions to Help You Set Kick-Ass Financial Goals
I Recommend:
1. How to Live Your Best Life – The Essential Guide for Creating and Achieving Your Life List
2. Make It Happen! A Workbook for Overcoming Procrastination and Getting the Right Things Done
3. How to Be More Creative – A Handbook for Alchemists
Did you enjoy this article? Subscribe to "Daring to Live Fully" by clicking here and get free updates.