"Before my accidents, there were ten thousands things I could do. I could spend the rest of my life dwelling on the one thousand that I had lost, but I instead chose to focus on the nine thousands I still had left."
Traveling the world as a motivational speaker.
Publishing several books and becoming a bestselling author.
Sharing the stage with the Dalai Lama.
Throwing the first pitch at a major league baseball game.
Obtaining a Ph.D.
"When I walk up on that shore in Florida, I want millions of those AARP sisters and brothers to look at me and say, 'I'm going to go write that novel I thought it was too late to do. I'm going to go work in Africa on that farm that those people need help at. I'm going to adopt a child. It's not too late, I can still live my dreams.'"
What do you want to do? Do you want to become a bestselling novelist, a congressman, or an entrepreneur? Do you want to take up running, take a painting class, or become a world-renown landscaper? Stop making excuses and start living your best life. If the people above could do it, so can you.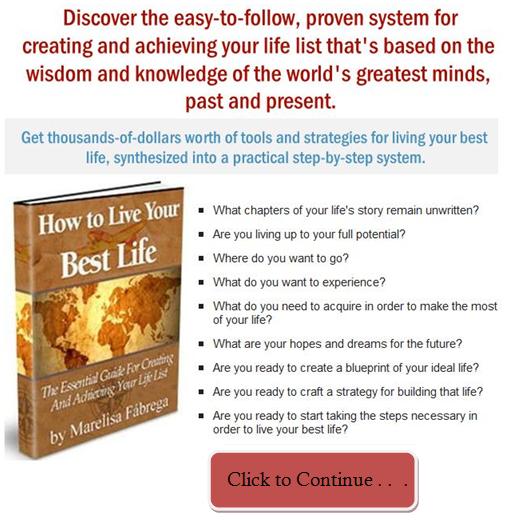 Related Posts:
1. Six Videos to Inspire Your Bucket List
2. 525+ Ideas for Your Bucket List
3. 75 Ideas for Your Music, Song, and Dance Bucket List
4. Adventure Quotes: 50 Quotes on Living a Life of Adventure
5. Reverse Bucket List: 50 Things I've Already Done
I Recommend:
1. How to Live Your Best Life – The Essential Guide for Creating and Achieving Your Life List
2. Make It Happen! A Workbook for Overcoming Procrastination and Getting the Right Things Done
3. How to Be More Creative – A Handbook for Alchemists
4. The One-Hour-A-Day Formula: How to Achieve Your Life Goals in Just One Hour a Day
Did you enjoy this article? Subscribe to "Daring to Live Fully" by clicking here and get free updates.