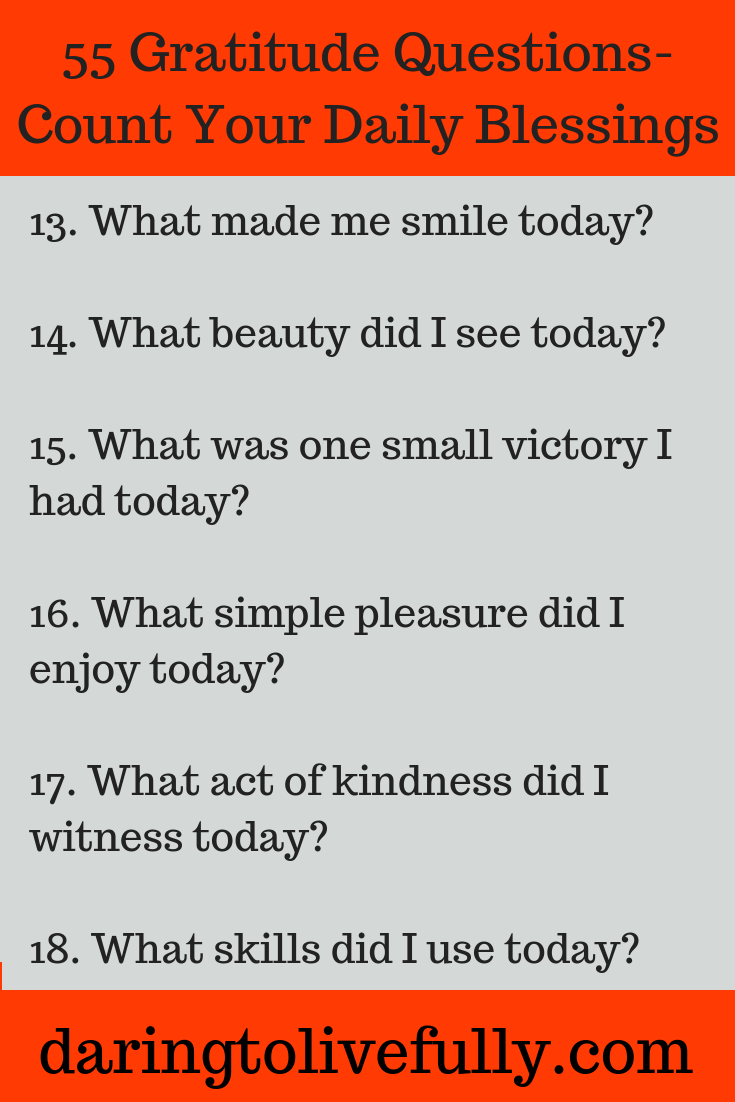 Count your daily blessings and they will multiply.
Every year at this time I publish a post about gratitude. I've shared with you gratitude exercises, gratitude quotes, and even prompts so that you can come up with a master list of 100 things you're grateful for.
After all, the purpose of this blog is to help you to become the best version of yourself, which includes increasing your feelings of happiness and well-being. And one of the best ways to feel happier and better about yourself–and your life–is through the miraculous power of gratitude.
You've probably heard a thousand times that in order to enjoy the many benefits of gratitude, you should keep a gratitude journal. Then, every night, use your journal to jot down at least three things you're grateful for on that day. Today's post is going to help you with this.
Below you'll find a list of 55 gratitude questions you can quickly scan through each night to help trigger your memory, so you can come up with three items to write down in your gratitude journal. Think of them as questions that will help you to count your daily blessings.
Here they are:
55 Gratitude Questions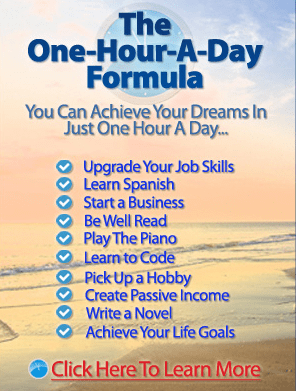 1. What was the best part of the day?
2. When did I feel grateful today?
3. What made me smile today?
4. What made me laugh out loud today?
5. Who helped me today?
6. Who was kind to me today?
7. What insight did I gain today?
8. What did I learn today?
9. How am I better today than I was yesterday?
10. What did I read or listen to today that added value to my life?
11. How did technology make my life easier today?
12. What activity did I most enjoy today?
13. What was the most delicious thing I ate today?
14. What did I enjoy listening to today?
15. What made me think, "That smells good!" today?
16. What was pleasant to the touch today?
17. What beauty did I see today?
18. What was one small victory I had today?
19. What simple pleasure did I enjoy today?
20. What act of kindness did I witness today?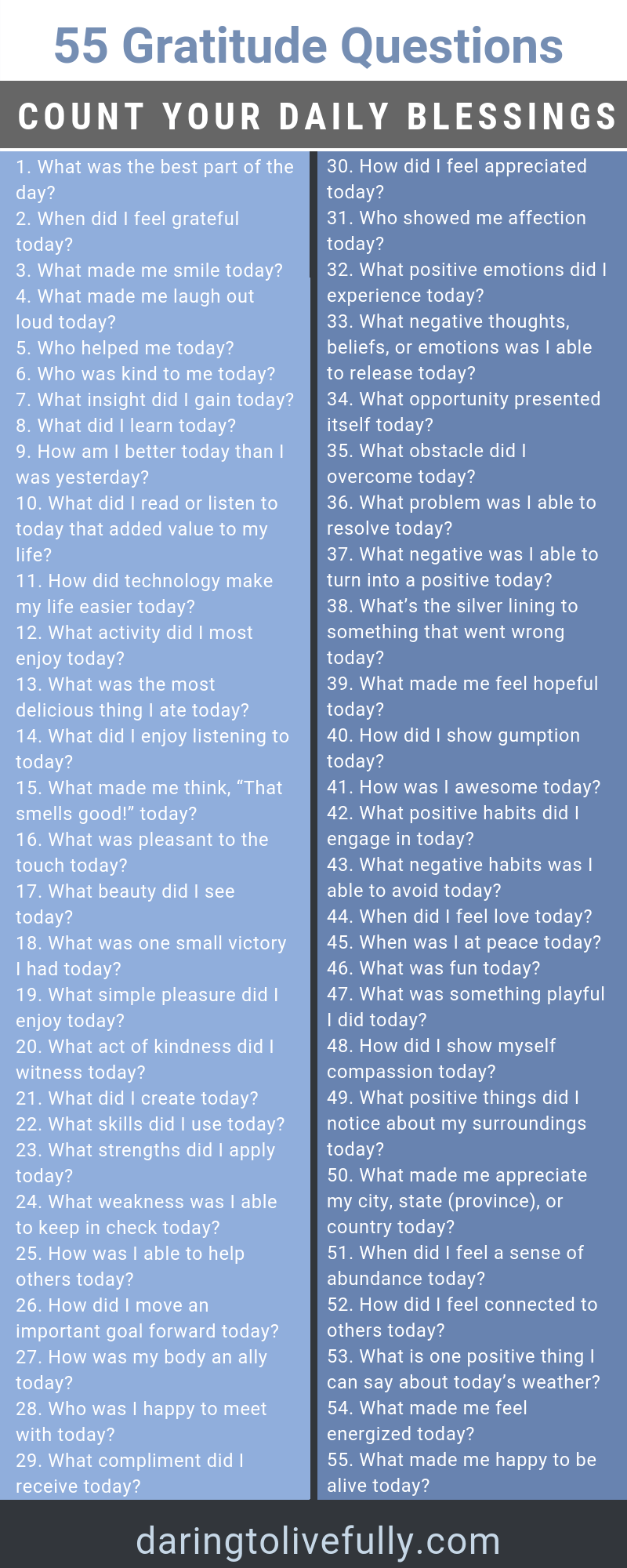 21. What did I create today?
22. What skills did I use today?
23. What strengths did I apply today?
24. What weakness was I able to keep in check today?
25. How was I able to help others today?
26. How did I move an important goal forward today?
27. How was my body an ally today?
28. Who was I happy to meet with, chat with, or run into today?
29. What compliment did I receive today?
30. How did I feel appreciated today?
31. Who showed me affection today?
32. What positive emotions did I experience today?
33. What negative thoughts, beliefs, or emotions was I able to release today?
34. What opportunity presented itself today?
35. What obstacle did I overcome today?
36. What problem was I able to resolve today?
37. What negative was I able to turn into a positive today?
38. What's the silver lining to something that went wrong today?
39. What made me feel hopeful today?
40. How did I show gumption today?
41. How was I awesome today?
42. What positive habits did I engage in today?
43. What negative habits was I able to avoid today?
44. When did I feel love today?
45. When was I at peace today?
46. What did I do today that was fun?
47. What was something playful I did today?
48. How did I show myself compassion today?
49. What positive things did I notice about my surroundings today?
50. What made me appreciate my city, state (province), or country today?
51. When did I feel a sense of abundance today?
52. How did I feel connected to others today?
53. What is one positive thing I can say about today's weather?
54. What made me feel energized today?
55. What made me happy to be alive today?
Conclusion
I hope you found the questions above helpful, and that they encourage you to start keeping a gratitude journal (or give you some inspiration for the gratitude journal you're already keeping). Live your best life by counting your daily blessings.
I put together a PDF which contains the 55 gratitude questions above. Print it out and tuck it into your gratitude journal for easy reference.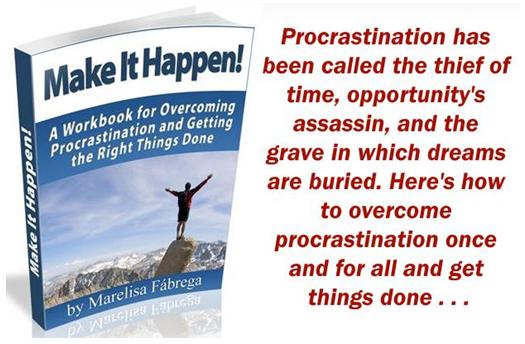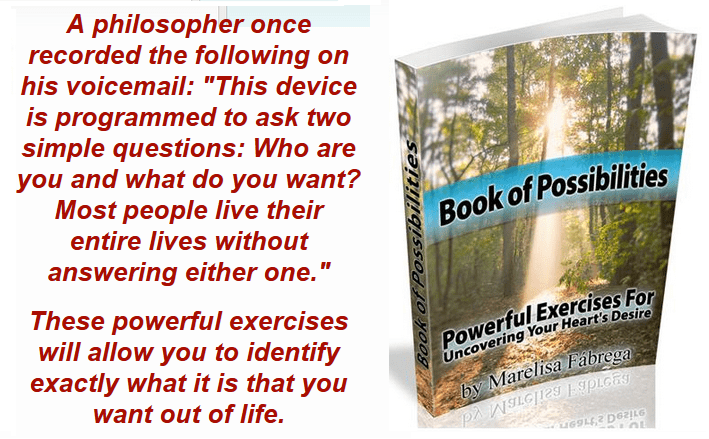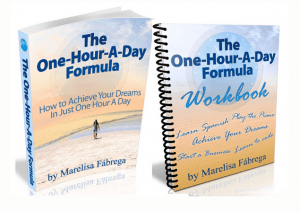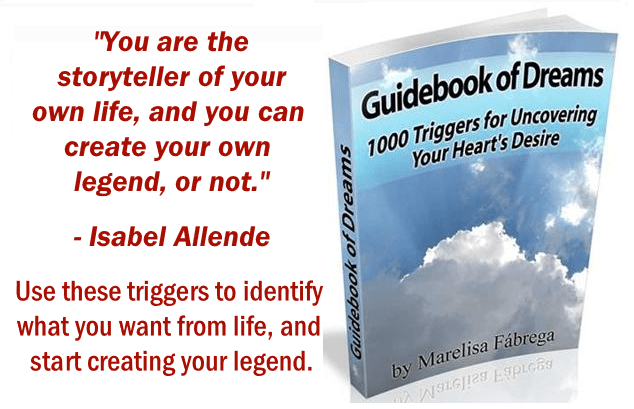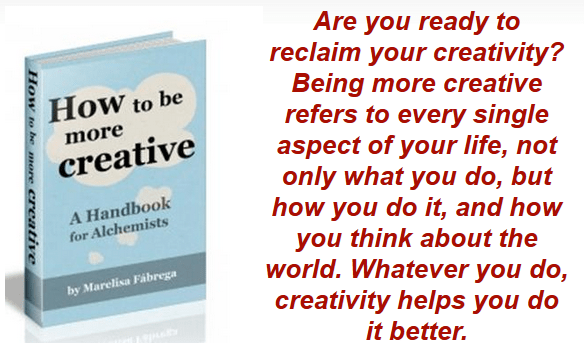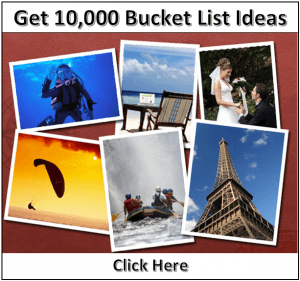 Related Posts: